Rockland Park Community & Homes for Sale
The Rockland Park Community in Calgary was named the Best New Calgary Community of the Year at the 2021 BILD Calgary Regions Awards! This is the first new master-planned community in Calgary's north-west in a long time! This is a highly desirable corner to our city and we are so excited to be introducing a whole new community to this part of Calgary.
Rockland Park offers a Nature Filled Calgary Community
A community surrounded by natural landscapes. From epic skies to pristine waterscapes and connections to the Bow River and mountain parks. This combination creates an unmatched nature inspired lifestyle. In Rockland Park, there will be so much to do and explore right outside your door. From parks, play spaces and pathways to a vibrant commercial hub, and an inviting plaza. Year-round recreation opportunities are endless throughout the community and beyond.
A Master-planned Calgary Community
Rockland Park's residential product mix was thoughtfully chosen in the design process to invite a diverse multi-generational audience. Ranging from townhomes to Estate homes, Rockland Park is destined to be a popular draw with a wide audience seeking quality, affordability and an engaging lifestyle close to both nature and city.
More information about the community of Rockland Park visit: experiencerockland.com
Rockland Park Homes for Sale
Search for new luxury estate homes, residential homes & townhomes in Rockland Park from builders in the community including Brookfield Residential, Cedarglen Homes, Morrison Homes & Avalon Master Builder
experiencerockland.com/showhomes
Let a professional real estate agent help you through the entire process of searching & buying a home in Rockland Park including representing you when you deal with any home builder, at no cost to you. Call Manny Aldea with CIR Realty (17 years experience) to guide you with your new home purchase: 403-389-7355. We have helped & represented clients with purchases from home builders from apartment condos to an Ultra Luxury $5M Estate Home
Initial release will include the following: Townhomes by Avalon Master Builder, Duplex Homes by Brookfield Residential, Rear Garage Homes by Brookfield Residential and Morrison Homes, Single Side Yard Front Garage Homes by Brookfield Residential and Cedarglen Homes, Front Drive Garage Homes by Cedarglen Homes, and Estate Homes by Brookfield Residential and Morrison Homes.
Rockland Park Commercial Hub:
Enjoy approximately 85,000 sq ft of shops, services, restaurants and an inviting outdoor plaza to meet your neighbours.
Rockland Park Schools:
Your kids can bike or walk to school with a new CBE K-9 planned right in the community.
Rockland Park Walking/Biking Pathways & Parks :
Rockland Park features over 80 acres of park space & large central park system that connects residents to the escarpment. With well connected multi-use pathways, sidewalks and trails, Rockland Park promotes pedestrian connectivity and active transportation, leading to healthier living all year round.
Home to a Homeowners Association Facility.
The Rockland Park Homeowners Association (HOA) will be a fully managed exclusive lifestyle centre, sitting on a 4-acre park. This thoughtfully designed modern rustic space will provide experiences for your entire family to live and grow, at every stage of life. Exclusively for Rockland Park residents and their guests, the facility will host unique concierge services, events and programs focusing on the health, wellness and connectivity for those who call Rockland Park home.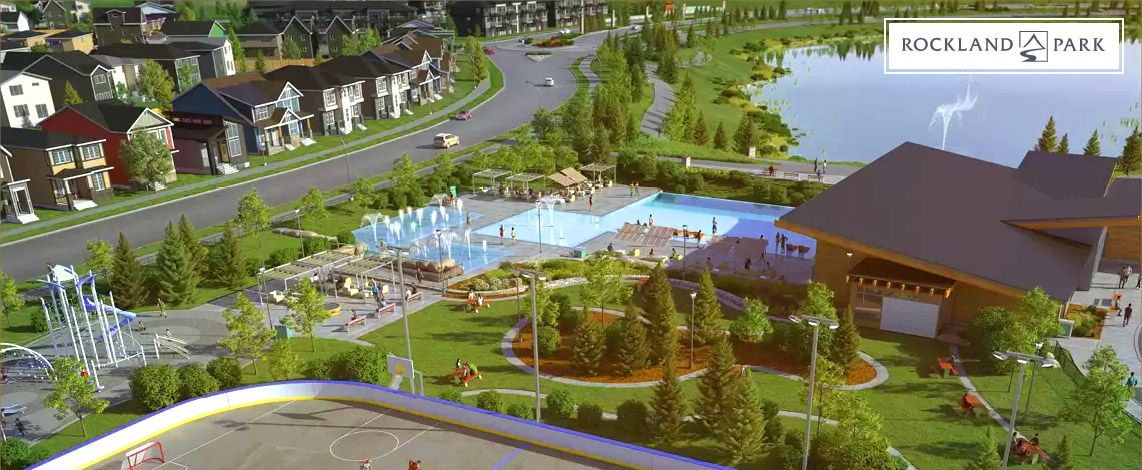 HOA building
Hot Tub
Main pool location - transition/beach entry + 4x20M swim lanes
Poolside shade shelters and loungers
Multi-age playground
Central fire pit and gathering space
Landscaped area
Casual skate trail/adventure trail
Hockey rink/basketball/modular skate board area
Flex space
Picnic/BBQ shelters
Possible community garden plots
Amphitheatre/outdoor classroom with pond views
Space with outdoor views