Elbow Valley Estates Real Estate
Elbow Valley Estates is an award winning community just west of Calgary, Alberta, Canada, closer to the mountains and closer to Calgary. This magnificent area is located in the Elbow Valley wildlife corridor and is teaming with unspoilt flora and fauna. Tucked between three of the most beautiful golf courses, Elbow Valley is an idyllic setting for young families and seniors alike. Take a look at current luxury homes available in Elbow Valley Estates.
Elbow Valley Estates
December 10, 2023
$2,350,000
Med. List Price
Elbow Valley Estates Community Information & Attractions
Elbow Valley is a community of about 800 acres, with 400 acres of undeveloped land, lakes & ponds that creates a natural setting for young families to active seniors to enjoy, making this a perfect setting for a multitude of activities including access to Residents Club, hiking, biking, canoeing, paddle boating, tennis,pickle ball, basketball, fishing, skating and swimming and just plain exploring!
More info: elbowvalley.org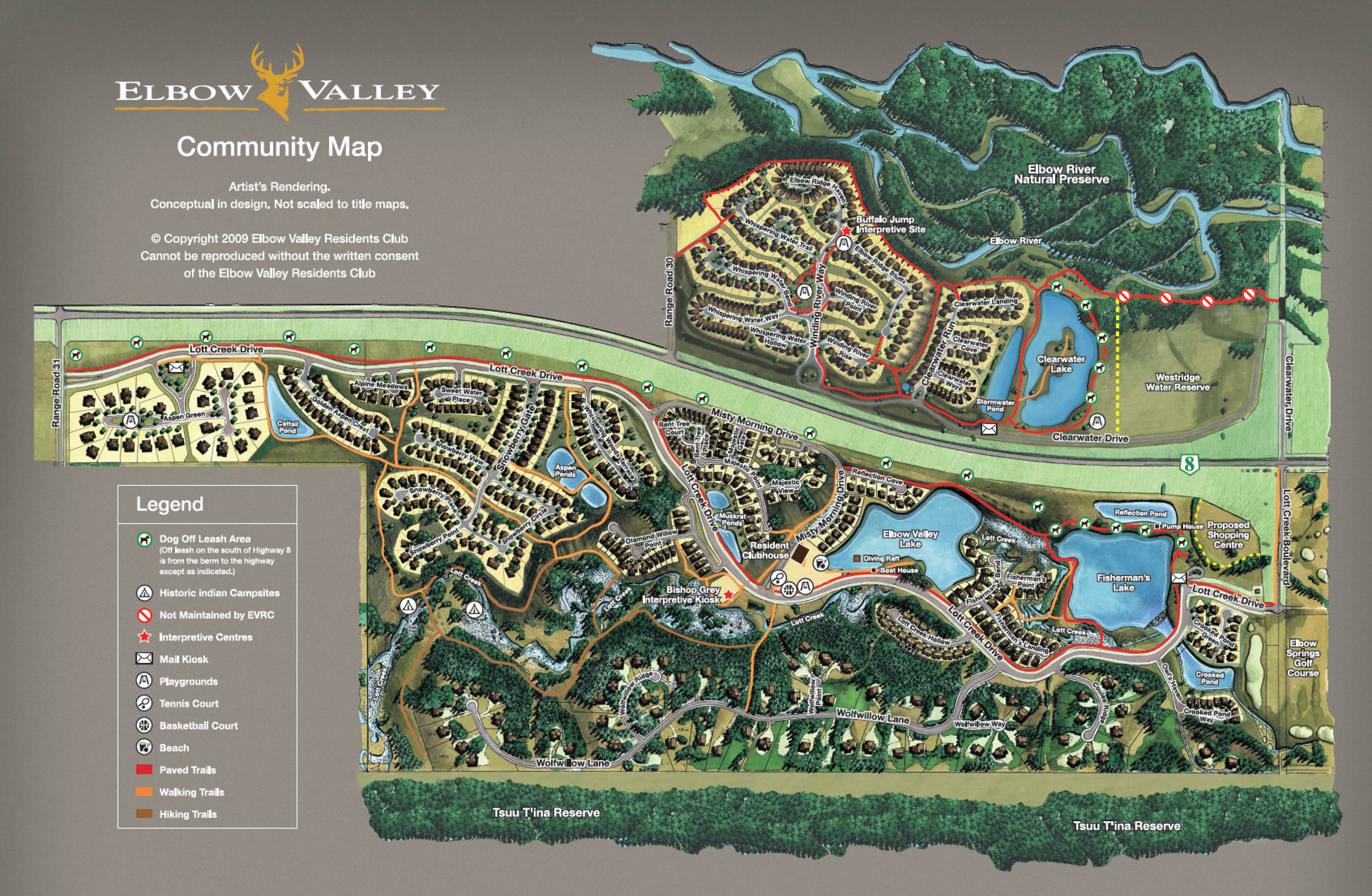 Facilities and Amenities
There are three primary amenity areas in the Elbow Valley community for the enjoyment of residents: The Recreational Lake Areas, The Community Lands and The Bishop Gray Interpretive Area.
The Recreational Lake Areas include three primary lakes (Elbow Valley Lake, Fishermans Lake and Clearwater Lake), a portion of Lott Creek, generous parklands and a variety of ponds. They are located within the floodway / flood fringe area south and north of highway 8, where portions of the land have been previously disturbed. The three lakes, each approximately 15 acres in size, are landscaped with trees, grasses and shrubs to create a natural edge. Many groves of Aspen have been protected near the shores, and new landscaping has been designed to incorporate these and to blend with the natural environment beyond. The lakes support a variety of recreational uses including swimming, skating, canoeing and rowing (no motors please). Fishermans Lake is stocked with trout and it will sustain fish year-round.

The neighborhood parks and trail system circles the lakes and then reaches out to connect all parts of the community. Every home has nearby access to the trails. Parks are furnished with benches, picnic tables and children's play structures. Trails have been carefully located to allow full appreciation of the Elbow Valley landscape, while at the same time protecting the delicate natural ecosystems.


The Community Land, just west of Elbow Valley Lake, is the location of the Residents Club and recreational facilities. The Residents Club includes social gathering areas, washrooms, kitchens, as well as office space and storage. In addition, there is a beach area and boat house stocked with canoes and paddle boats, as well as tennis courts, a sports court, play structures, a picnic area and parking for resident use. The exact use of this area was determined by Elbow Valley residents themselves. Through the "Communities Forever Program" under which funds from each lot purchase were allocated specifically for recreational developments in this area.


The Bishop Gray Interpretive Area, comprising the balance of Lott Creek Valley, will be preserved as a natural interpretive area. Due to the sensitivity of these lands, access is guided by nature trails that loop through the area, starting and ending at the Bishop Gray Interpretive Center. The trail system and the landscape design help prevent damage to the lands, while allowing residents to enjoy their full beauty. These lands are maintained in their natural state. Observation points, benches and boardwalks provide views of beaver, blue heron, deer and other wildlife habitats.

The Bishop Gray Interpretive Center is named after Henry Allan Gray, who first homesteaded these lands in 1889 and subsequently became the first Anglican archbishop of Edmonton.
Elbow Valley Estates Schools
The designated schools are located in Springbank but there are alternative schools available. Elbow Valley is easy access to a number of excellent private schools.